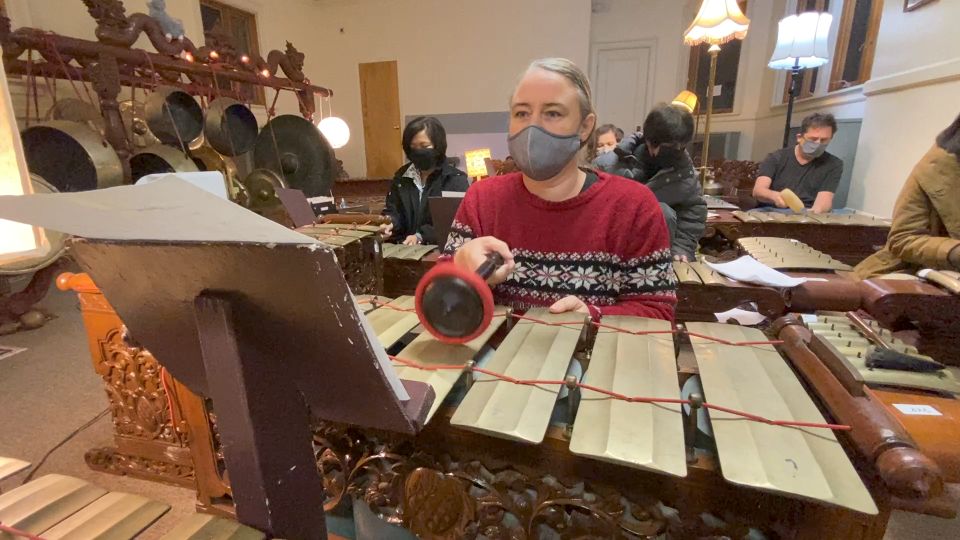 WNY's Indonesian Orchestra Receives Large Instrument Delivery
[ad_1]
BUFFALO, NY – A unique musical opportunity in Buffalo has just been delivered on a massive scale. Authentic Indonesian cultural instruments and objects arrived after a journey of more than four months.
In a small room in Saint John Grace Church in Buffalo, the sounds of Indonesia float through the hallways.
"An Indonesian gamelan orchestra is made up of many different bronze instruments and they basically work together to create music like in a Western orchestra," said Matt Dunning, executive director of Nusantara Arts, a group focused on the Indonesian. cultural and artistic.
He started teaching these courses in 2016 playing iron instruments. It wasn't until recently that they got new authentic bronzes, raising over $ 40,000 to ship them from Indonesia.
"It's like some kind of classic material used in building gamelan and it looks amazing," Dunning said. "They are beautiful and we are very happy to have them. "
This is a rare community cultural group. Most of the other places where you could learn Gamelan are universities.
"The music is wonderful. It's great to play there. It's wonderful to just be around that, "explained Timothy Bardo.
Bardo is one of the many students here who doesn't take the opportunity for granted. Another is Ayu Vitous, herself from Indonesia.
"I wanted to play gamelan since I was growing up in Indonesia, but unfortunately gamelan overall is very expensive," she explained. "So not all cities had gamelan instruments."
She is one of hundreds of students over the years who have learned Gamelan in Buffalo.
"It brings back memories, definitely," Vitous said.
It's a calm experience that keeps people coming back.
"That's it, that's a big part of this music, listening," Bardo said. "I don't mean to sound cheesy, but like to vibrate with it, the more you listen to, the more you become part of it and create it."
This class teaches students about culture and fosters friendships.
"It feels good. I feel like I'm part of the cultural developments," Vitous said.
Maybe it's even the start of family traditions to help connect with the homeland.
"I will bring my 10 year old daughter for next time," added Vitous.
You can watch the band perform live on December 16 at 8 p.m. at St. John Grace's Episcopal Church.
Tickets for this can be found here.
To learn more or to register for courses, click here.
[ad_2]
Source link