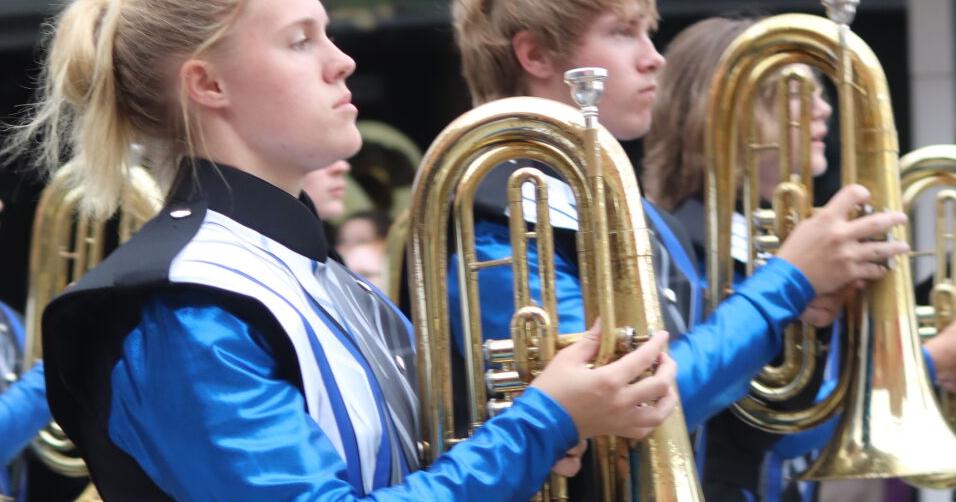 WHS Group Director Pitches New Group Instruments | Local News
[ad_1]
Washington High School group principal Stewart Alloway asks the Washington school board for new instruments.
At last Wednesday's school board meeting, Alloway told board members that copper equipment currently in use is between 30 and 40 years old, and percussion equipment is around 10 years old. He also said that several of the group's trumpeters use different brands of trumpets, making it difficult to harmonize their sounds.
Alloway asked the board for all new brass and drum instruments as well as upgrades to sound equipment.
Student and band member Aiden Van Leer demonstrated the band's need for new instruments by playing one of their current walking baritones and then playing a new one the band hopes to purchase.
Alloway said he received two price estimates on the proposed purchases, one from St. Louis-based Nottelmann Music Co. for $ 252,980 and the other from St. Louis-based Palen Music Center for 272. $ 000. River City Music in Washington was unable to provide an estimate in time for the meeting, he said.
"The retail price would be $ 400,000, but as schools we get a very, very, very, very good discount," Alloway said.
Alloway said the new instruments are expected to last 30 to 40 years and offered the district to buy silver instruments, which he said are easier to maintain, rather than gold, which the district currently owns. .
Alloway said the marching band's recall club and high school, through its construction budget, each agreed to pay a third of the cost of the new equipment.
Group staff presented the school board with three options: they can pay for the new instruments without the help of the booster club or the construction budget, they can pay all funds up front and ask the booster club and budget building to pay them back over the next two to five years, or he can pay a third of the cost each year for the next five years while the booster club and construction budget also spends a third each year.
The board of directors reacted positively to the request of Alloway and several of the board members took a moment to congratulate the new band manager on the job.
Board member Dan Leslie said he believes the district should pay for all the instruments, comparing it to the district's textbook purchases, which the district does without the help of boosters. .
Board member Jason Oesterly asked Alloway what they would do with the old equipment. Alloway said it was too old to be sold to other bands or musicians, but there is a nonprofit in Kansas City that can turn them into art to raise money for charity.
The board then asked Alloway to draft a purchase requisition and return it to the board in January, when it votes on the matter.
"But you have our support," said Chairman of the Board, John Freitag.
"One hundred percent," added Susan Thatch, board member.uh.
[ad_2]
Source link