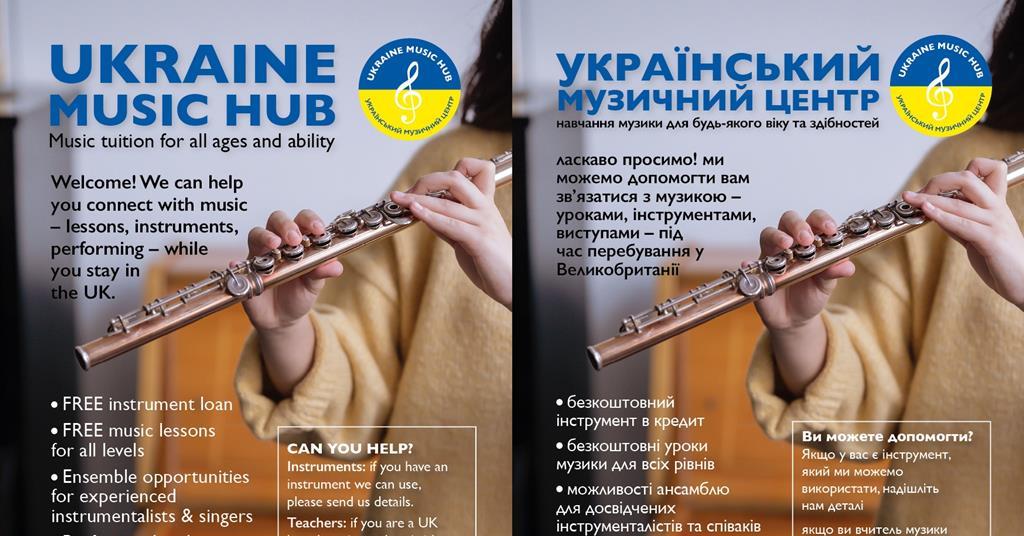 The Strad News – Ukrainian Music Hub: A call to teachers, instruments and spaces
A group of London-based musicians and teachers created the Ukraine Music Hub. The hub aims to provide a centralized point for Ukrainian musicians currently living in the UK to find music lessons, instruments and spaces to take lessons and practice, all on a voluntary basis.
Its aim is to create a UK-wide database of teachers, instruments and facilities that make it easy and quick to connect with families and people in need. He hopes to build connections initially to support individual music lessons with the aim of also providing group music making opportunities to create a sense of community and connection between musicians currently living in the UK. .
Music teachers, instruments and facilities are urgently needed across the UK, all of which can be offered on a voluntary basis to support this project.
Any musician or instrumental teacher with an enhanced DBS can sign up to offer teaching hours on a voluntary basis, across the UK.
The hub asks anyone with instruments they can lend or donate to get in touch and register directly.
Several schools across the country have already pledged to provide space for classes. Other schools and community spaces in London and across the UK have been encouraged to register their support by the project, to establish an extensive network of facilities so that the service can meet demand.
Ukrainian musicians of all ages and skill levels can register through their website: www.ukrainemusichub.com. Musicians can apply directly to the hub via the website.
Educational level instruments and beyond are needed to help support musicians through a range of playing levels, including those working at the conservatory level and beyond. Facilities and spaces for individual lessons, group lessons and practice are also needed.
Anyone who can offer school facilities, a church, community center or space in a private home for this purpose is welcome to register on the website. Insurance and repairs for these instruments may also be required, so instrument repairers or insurers are also encouraged to get in touch.
All offers and requests can be registered directly on www.ukrainemusichub.com. The organizers can be contacted at: [email protected] Where 07306 014 873, or by following Ukraine Music Hub on Facebook.