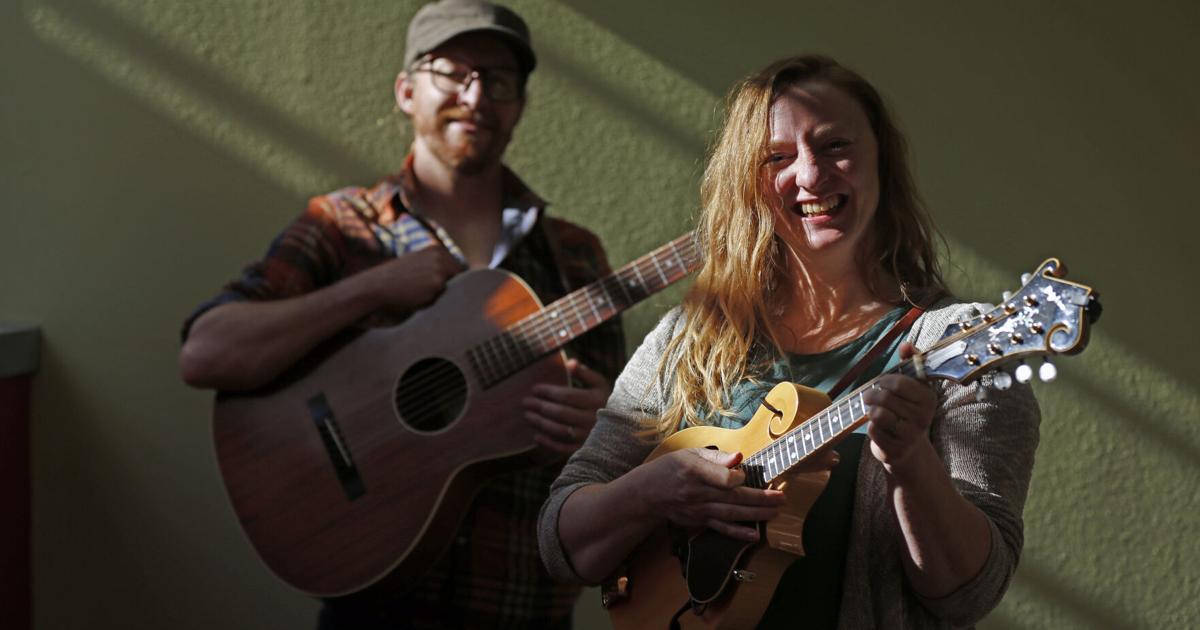 Queen Bee Music Association to Teach Instruments at Aspen Plaza Building | Business
[ad_1]
They created the Queen Bee Music Association a long, long time ago, in 2019.
The husband-and-wife team Lindsay Taylor and Brian Nelson started their school to teach people how to play the ukulele, guitar and violin in two rented classrooms at the Desert Academy.
Then the pandemic arrived. Queen Bee switched to virtual and private lessons until June of this year. By then, the Desert Academy had closed.
Taylor and Nelson launched weekly carols for kids ages 5 and under every Wednesday at Railyard Park in June and added children's carols to the Southside Branch Library in September. In addition, there was a four week summer camp in July and August at Desert Montessori School.
But the Queen Bee Music Association needed a home of its own.
"We've been looking for a space since returning to face-to-face classes in June," said Taylor, Executive Director. "It was difficult to find room for a group of people. "
Phase One Realty acquired in October the Aspen Plaza building and the neighboring Plaza de Comercio on Pacheco Street. Aspen Plaza, 1596 Pacheco, is a two-story office building with a few government offices, 40% vacant, and a vacant basement.
Phase One and Queen Bee have reunited.
"They're a really good bunch," Phase One associate broker Aaron Romero said of the Queen Bee couple. "They needed a place to land and we had a place for them to land. We want to renovate the building.
"We're part of the facelift," said Nelson, artistic director of Queen Bee.
Queen Bee leased the 1,440 square foot basement.
"We took some instruments over there – drums, guitars, 'boom whackers' – to do a sound test to make sure no sound was bleeding upstairs," Taylor said.
Classes start on January 3 from 4 p.m. to 6 p.m. on Mondays, Tuesdays and Wednesdays for children aged 5 to 16 and for adults from 6 p.m. to 8 p.m. Queen Bee has three classrooms.
Taylor and Nelson begin with four teachers and 10 week sessions with ukulele, guitar and percussion lessons. The cost is $ 20 per class and registration is via queenbeemusicassociation.org.
"At the end of [next] year we want to add banjo and mandolin teachers, "Taylor said.
They are also planning to have an adult folk ensemble.
"Anyone who plays any instrument can come," Taylor said.
Queen Bee raises $ 5,000 for paint, furniture and educational supplies.
Taylor's day job is director of communications for the recently revived Creative Santa Fe, and she plays the flute, mandolin, violin, and ukulele. Nelson is a "drummer by trade" but also plays guitar and piano and does music production. He teaches music in public schools and manages audio at the Lensic Performing Arts Center.
"For our children, above all, we try to make music a positive experience," said Nelson. "We are going at a slow pace. We try to have fun as a group. Our goal is not to stifle virtuosos. Rather, it's about planting a seed for the love of music and the joy of music.
They got Queen Bee from the song by singer Taj Mahal that Nelson serenaded Taylor with while courting. They call it Queen Bee Music Association because "we didn't just want to be seen as a school," Taylor said.
"We want to build community through music," Taylor said. "Music has the ability to connect people in ways that very few art forms can. There is a connection that occurs when you play music with other people.
[ad_2]
Source link