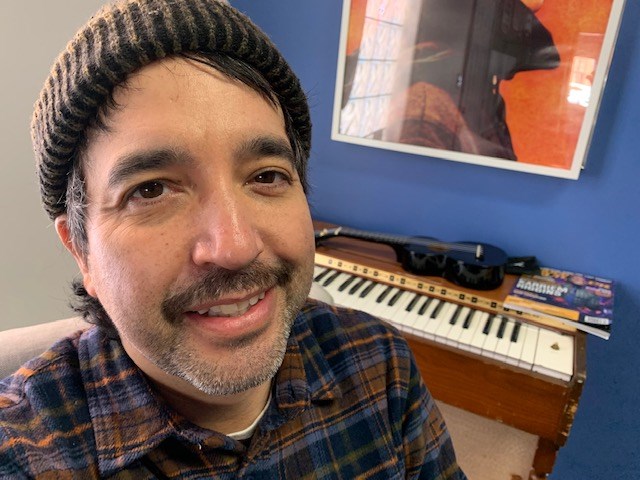 Ottawa's Music Man: How Spaceman School of Music Changed the Beat During COVID-19
When the owners of Spaceman Music were looking for a way to use vacant drum studios, Rey Sabatin suggested they start a music school.
When Dave Dudley announced he was moving his drum shop out of Spaceman Music's rented second building, store owners Scott Terry, Alex Mortimer and Tom Stewart asked their sales staff for ideas on what to do next. with space.
Rey Sabatin suggested converting the store at 390 Gladstone Ave. into a music school, believing that a music school would fit perfectly with the music store. Students could purchase an instrument at 388 Gladstone Ave. and take a lesson on the side. This would make Spaceman Music a hub for the city's burgeoning music community.
"I had the idea of ​​opening my own music school for a few years," recalls Sabatin. "I was teaching guitar and songwriting on my own, and I saw the effect of learning to play music on people. I knew it would work.
Convinced that Sabatin was onto a good thing, Spaceman Music opened their music school in 2018 with Sabatin as the school's coordinator.
This marked a new, if not unexpected, step in Sabatin's varied musical career. He is one of six staff members who teach guitar, singing and songwriting in addition to running the school. He took up teaching, finding the relationship between teacher and student similar to the relationship he had with the public when he fronted the Ottawa band The John Henry's.
"Music," says Sabatin, "can have a transformative power over people. You see it when you play – how an audience can get lost in the music and become part of the song. It is the same as teaching a student. It's a fantastic feeling when a student learns something you've taught them, and you see them become more confident and want to play more. I develop a relationship with the student that you don't always find with the store's customers.
It took a few years for the business to mature, but in 2020 enrollment was peaking at over 100 students.
Then COVID-19 hit. The school has closed and classes have moved online. More than an embarrassing situation, it was potentially deadly.
"We lost half of our students overnight," recalls Sabatin. "It's a hands-on business. Students want to feel their instrument, develop a relationship with a teacher. We couldn't do that. The first lockdown was devastating. I thought we had to shut down for good. But the interest was still there. People were waiting for the opportunity. But there is something about this place that people love. We are a community. COVID is not going to stop us. We were determined to continue. »
Luckily, Spaceman Music had the support and goodwill of the music community it built over the years. Registration for courses via the website www.spacemanschool.com back to pre-pandemic levels.
"It's been two long years," says Sabatin. "People needed something to do during the shutdowns. If anything can help people feel better in these troubled times, it's music, whether they listen to it or play it. I prefer that they play it.
Formerly Song Bird Music, employees Stewart, Terry and Mortimer bought the company, renaming it Spaceman Music in 2007. Sabatin, then a touring musician, moved to Ottawa and started working at Song Bird in 2002. He is there since.
"Spaceman has always treated me well," he says. "I never came home saying, 'Why am I working there?' I've worked in company stores that promised to look after staff but did the opposite. Spaceman management knows what it's like to be an employee. Most of the staff are musicians. They treat us well.
In addition to running the school, Sabatin continues to write and perform his music and plans to release two albums of new original music later this year.
"Even as a child, I was more interested in records than toys, GI Joe," he recalls. "It was pretty clear from an early age that my happiness was with music. I started selling guitars when I was 18 in Toronto. I sacrificed a lot of financial opportunities to work in a guitar store , but that's where my heart is.