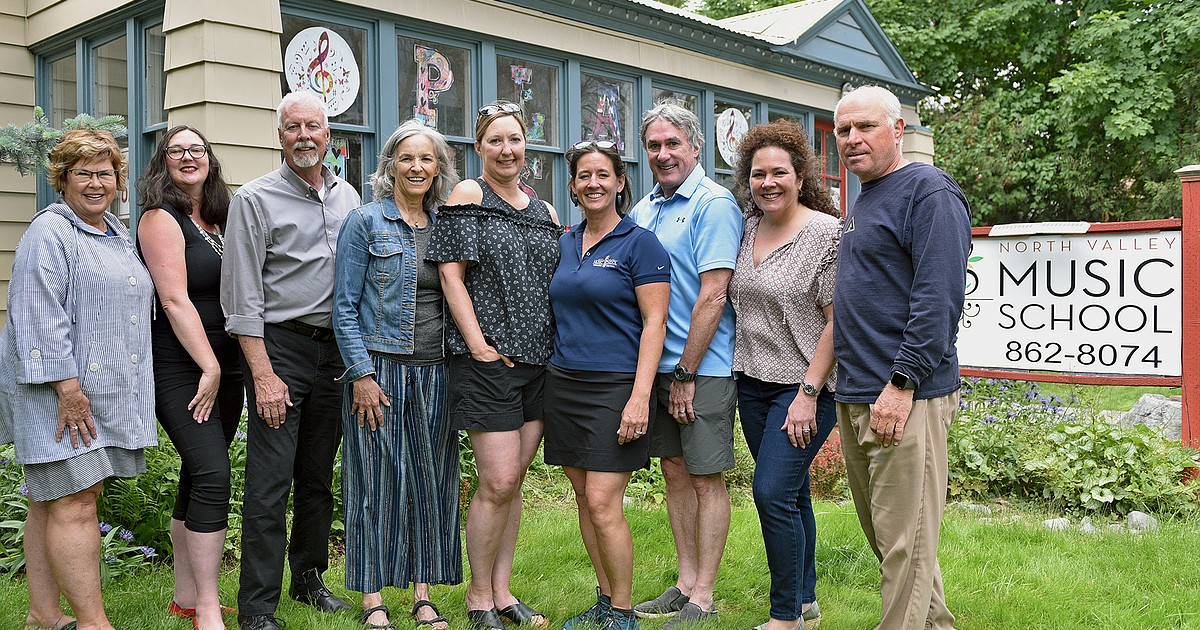 North Valley Music School launches campaign for new school facility
[ad_1]
As the vibrant North Valley Music School approaches its 25th anniversary, the non-profit organization is celebrating its growth and vitality over the years by launching a campaign for a new school facility.
The music school that operates in a converted house on Spokane Avenue in the heart of Whitefish is packed with students of all ages. The North Valley Music School (NVMS) has expanded its programs significantly in recent years, and as the population grows, the school is over capacity at its current location.
NVMS board members and staff say they want to continue to thrive and safely serve as many students as possible, and the school will be able to do that after signing an agreement with Project Whitefish Kids ( PWK) to sublet land at Smith Fields for a new music center and campus.
The fully accessible facility is expected to more than double the studio and classroom space; it will also add versatile indoor and outdoor event spaces – something not available at the Spokane Tiny House.
"The new building will provide NVMS students, teachers and staff with an ideal environment designed for music education," said Lin Akey, Co-Chair of the NVMS Fundraising Campaign Committee.
FOUNDED IN 1997, North Valley Music School had humble beginnings teaching classes at local church halls and has since grown into a school that enrolls hundreds of students each year. The school is unique in the state as Montana's only nonprofit community music school, according to NVMS. It offers programs ranging from private and group lessons in multiple instruments to summer music camps and early childhood musical opportunities.
The expansion of programming led to the need for a new facility. Board members, advisors, staff and faculty have had ongoing conversations about the need for a new music campus for more than a decade, but NVMS executive director Deidre Corson said that the timing and various potential properties had just never worked out until now.
"We spent a lot of time talking about a new school and it felt like this incredible long-term dream," Corson recalled.
Project Whitefish Kids had proposed a space near the football pitches years ago, but now was not the right time. In 2020, PWK and NVMS resumed conversations about the possibility of a new school at Smith Fields. Both parties were in agreement and in June 2021, NVMS obtained initial approval from the Town of Whitefish to lease land at Smith Fields for a new facility. In March 2022, the terms of the sublease between PWK and NVMS were set and approved by Whitefish Town Council.
"We are forever grateful to Project Whitefish Kids, the Town of Whitefish and our entire community for supporting music education," Corson said. "Together, many supporters are making this long-held dream come true."
Project Whitefish Kids is the non-profit organization that operates the Smith Fields resort. The non-profit organization formed in the late 1990s to help bring football, baseball and softball facilities to Whitefish and make sports participation more accessible to local children.
For PWK, subletting the land to the music school was also a win-win situation. According to PWK Executive Director Gloria Nelson, adding a music campus to the facility will hopefully create a community center for children to participate in various activities.
"At this time in our world with all the mental health issues, it seems music and sports are both great outlets for children. We are excited to combine these two things and serve our community," said Nelson said.
FINAL DESIGN of the new music center is nearing completion, and the most recent drawings show the potential for 14-16 private studios, an audiovisual and music technology room, a group classroom, a lending library of instruments, a teachers' lounge and collaborative space, a large multi-purpose room space for events and recitals and much more. With its location away from the main highway, it will also offer ample parking and a safe and accessible drop-off area.
This is a drastic improvement over the current operation of the school with only eight dedicated studios within the school and the rental of outside studios as well as the use of space at the First Presbyterian Church for lessons and the recitals. While grateful to the church for supporting the NVMS over the years, Corson said they were looking forward to having all classrooms and a recital hall under one roof.
Feedback from students, staff, faculty, board of trustees, donors and the community at large were all taken into consideration when designing the facility.
"We have been careful to take this information and ensure that it informs the design, layout and functionality of the current structure," said Christine Rossi, NVMS Board Chair.
Corson said that in addition to the contributions of multiple stakeholders, NVMS has also been careful to consider not only the current needs of the school and the community, but also to look far into the future by establishing a school of multifunctional music that will serve the growing city and valley for decades to come.
"We talked, it's not just about building for today, it's about building for the next 50 years…finding how we can put down deep roots and thrive," Corson said.
THE CAPITAL campaign titled "Be Instrumental" has gone through an extensive planning phase, a low-key fundraising phase and is now publicly launched. As of today, the campaign is already halfway to its goal of raising $5 million. According to NVMS, more than 45 people have signed up for the campaign.
Rossi and NVMS Board Vice Chairman Joel Lockwood say some key donors who are champions of the school have pledged donations to the campaign, but in addition they are still raising awareness in the community about school.
"We are extremely grateful for the support we have received from our NVMS friends. Not only are they donors, but they are also advocates for our mission and have seen firsthand how music changes lives and communities," Rossi said. "That perspective and ability to tell our story is really important and helps us gain momentum as we continue our fundraising campaign."
The campaign is off to a promising start and will need additional community support to achieve its goal of making the new NVMS campus a reality. There is no set timeline for construction yet, but the school hopes to meet its fundraising goal in 2023 and looks forward to starting construction as soon as possible.
"The longevity (of the school) is incredible and we couldn't do it without our community, donors, supporters, families, faculty and staff," Corson said. "It's so cool to be part of this family."
For more information about the project, upcoming campaign events, or to donate, call NVMS at 406-862-8074 or visit www.nvms.me
[ad_2]
Source link