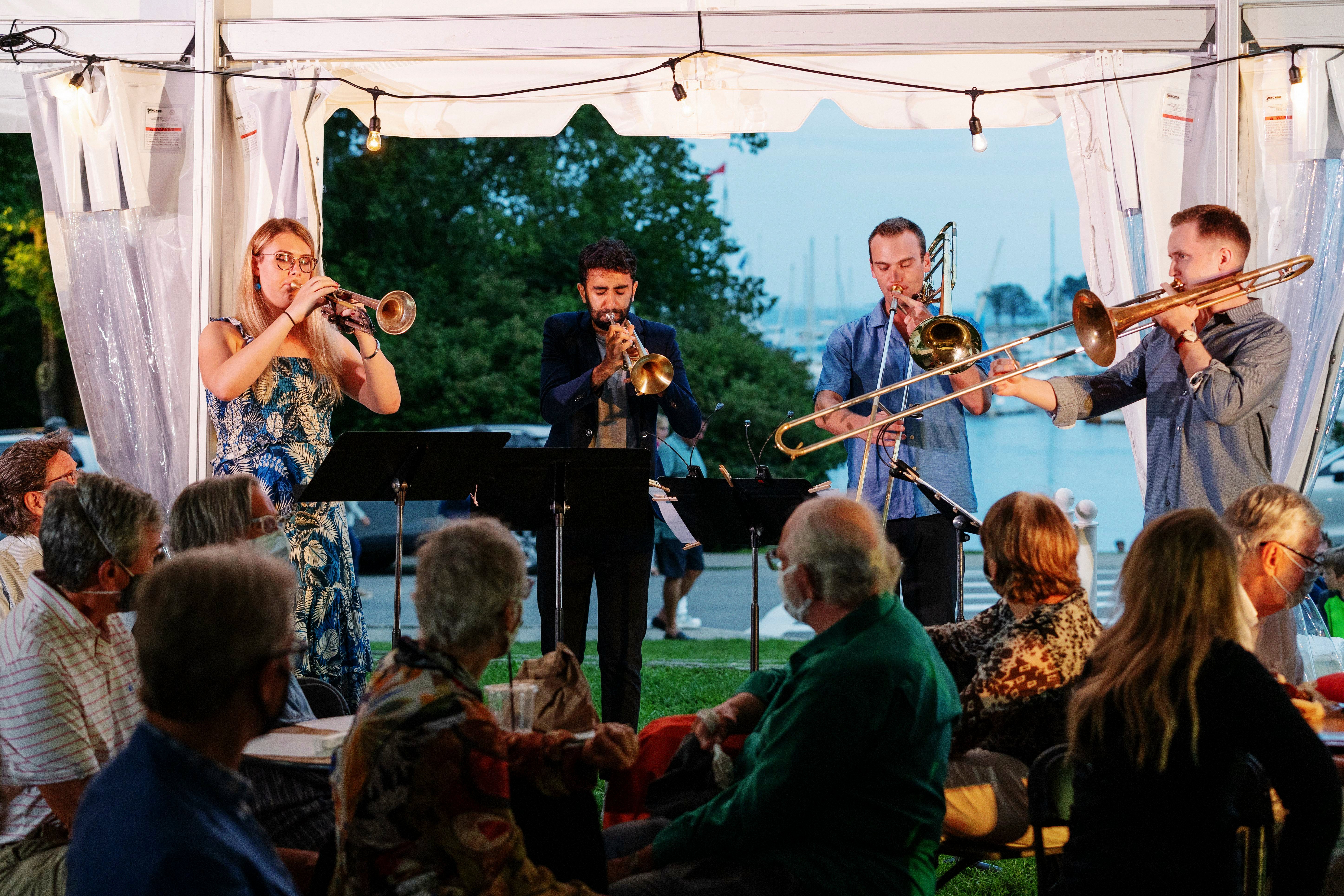 Midcoast School of Music buys its first home
[ad_1]
After more than 60 years of providing concerts and music education in the Midcoast region, a Rockport arts organization has purchased its first permanent home in nearby Camden.
Bay Chamber Concerts and Music School bought 5 Mountain St. from Meg Sideris for $1.352 million.
The list price was $1.395 million.
Known as High Mountain Hall, the 6,500 square foot structure dates back 175 years and is one of Camden's oldest community buildings, according to marketing materials.
Originally built as a church, it was converted to the Farmers Union and Collective in 1924 until Sideris undertook its renovation in 2007 with the help of architect Christopher Glass and Cold Mountain Builders.
Courtesy / Camden Real Estate
Bay Chamber Concerts and Music School purchased High Mountain Hall in Camden as their permanent location.
The building then functioned as a health and wellness center and was used for events, wellness and alternative medicine courses. It houses a commercial test kitchen, full sprinkler system, elevator and a grand staircase created by Rockport Steel. On-site parking includes approximately 21 spaces.
Scott Horty, president of Camden Real Estate Co., brokered the deal.
Horty said he has known Sideris and Bay Chamber executive director Monica Kelly for many years.
He started working with Kelly a few years ago to find a permanent location for Bay Chamber. Sideris, he said, had mentioned being interested in selling High Mountain Hall.
The property had been on the market for about a year. Although it could easily have been converted into a residential structure, it seemed like a perfect choice for Bay Chamber, he said.
"Now Bay Chamber will continue this process and refine it for their use and to share the music that will be created and emanating from their new home," Horty said.
Rented accommodation
Bay Chamber is currently in rented premises at 18 Central St. in Rockport, in a building known as the Shepherd Block.
Courtesy / Camden Real Estate
The new location is within walking distance of downtown Camden.
Founded in 1960 by two brothers, pianist Andrew Wolf and flautist Thomas Wolf, Bay Chamber was created to model the former summer musical colony at the Curtis Institute of Music in Rockport, according to its website.
The first 25 years were devoted to summer classical concert programs. In 1974, Bay Chamber began offering year-round concerts, adding jazz and world music to its series of programs.
Over the next 25 years, Bay Chamber, in partnership with the City of Rockport, restored the Rockport Opera House. In addition, Bay Chamber has established an annual Young Stars of Maine awards program for outstanding Maine student musicians. He added educational offerings that culminated in 2010 with the founding of the Bay Chamber Music School. He has also developed community engagement programs for those who have limited access to live performance opportunities.
Each year, Bay Chamber offers more than 20 free performances. At the music school, over 150 lessons are taught each week, along with opportunities for ensemble and chamber music.
The organization began in a basement office and moved to its current location when the music school began.
Too big for its space
A new location was needed because the organization had outgrown its current space, Kelly said. When she and artistic director Manuel Bagorro watched High Mountain Hall, "We realized it was an amazing opportunity," she said.
Courtesy/Bay Chamber Concerts and Music School
Monica Kelly.
The structure houses a large space that served as a dance and yoga studio and made it easy to transition into a performance space, she said.
Smaller spaces could be used as offices and studios.
Other benefits are that the new location is within walking distance of downtown Camden and the building is handicap accessible, she noted.
The new space is roughly double the size of the existing location. A big part of that is a performance hall, which the organization doesn't have where it currently is. Until now, Bay Chamber has given its concerts in rented halls. The organization will continue to use the Rockport Opera House, which has hosted the Bay Chamber Concert Series for 40 years.
Bay Chamber is working with Barba + Wheelock Architects in Portland on renovations, which are expected to begin in June. This will include extensive soundproofing and studio and office renovations.
"The room requires next to nothing," Kelly said. "It's acoustically stunning and a nice, big open space [and] no problem with sight lines."
Courtesy / Camden Real Estate
The building houses a large room that will be transformed into a performance hall.
The renovations, which are expected to cost about $3 million on top of the purchase price, are expected to take about a year.
Yoga and dance classes that operated under the previous owner will continue after renovations are complete, Kelly said.
The deal was funded by Bangor Saving Bank, which also manages the Bay Chamber endowment.
Bay Chamber is in the early stages of a fundraising campaign to fund renovations. The initial donations have arrived. Kelly would not disclose the capital goal.
The new performance hall will allow Bay Chamber to do much more programming on a smaller scale, while keeping the concert series at the opera house.
"It gives us an alternative venue" for traditional chamber music as well as contemporary music, she said.
"It's an amazing opportunity for us to experiment," she said.
[ad_2]
Source link