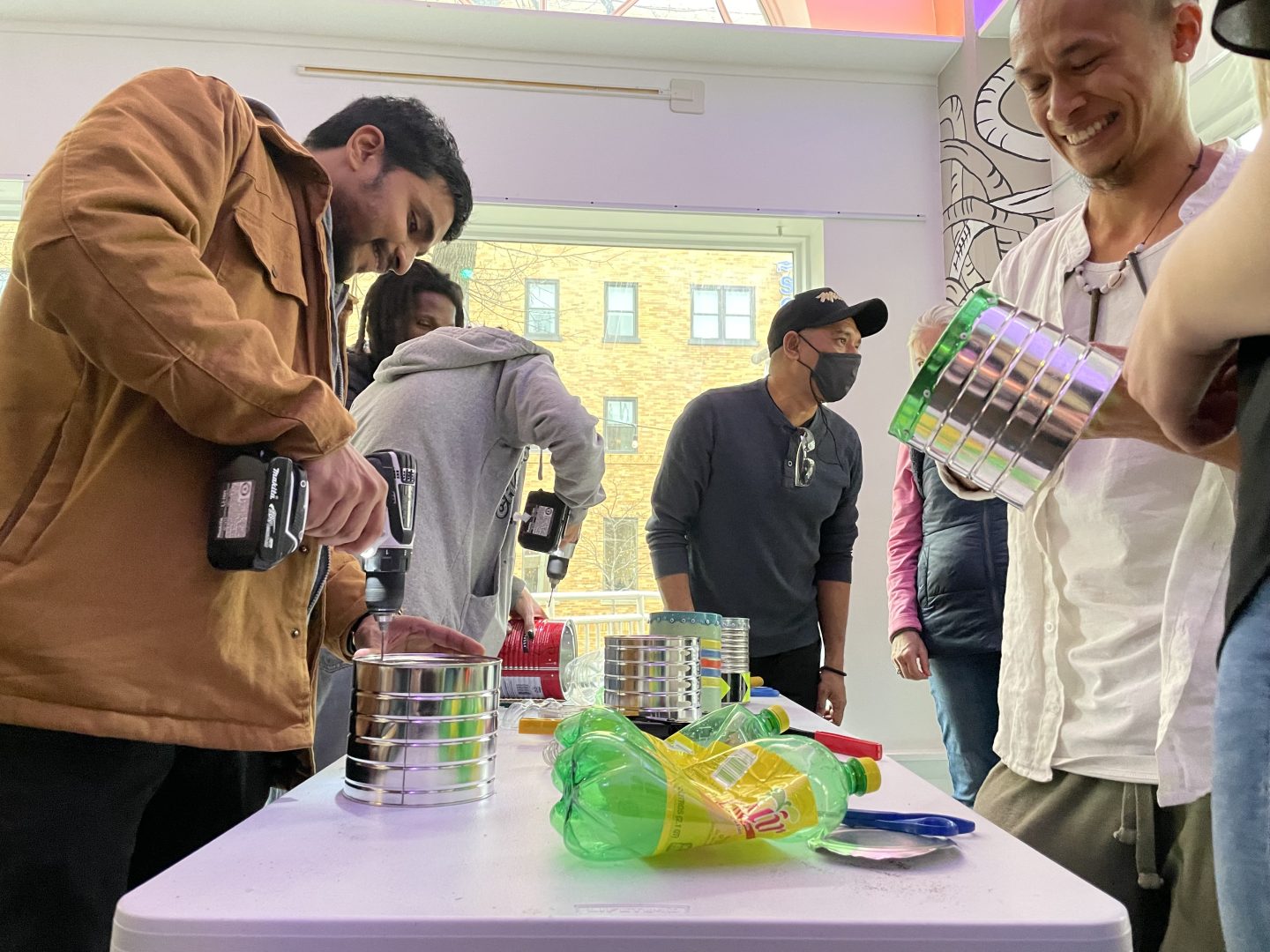 Members of the State College community turn everyday objects into musical instruments
[ad_1]
3 Dots Downtown at State College held its first Tuesdays on the Terrace event of the year last week called "The Upcycled Instrument Jam Session".
Members of the Small Island Big Song group stopped by to help community members make instruments out of everyday objects, such as metal cans, glass jars, nails and water. About 50 people showed up to make instruments and listen to a concert of recycled instruments by Penn State students.
Students blew glass bottles, shook cereal boxes, or banged soda cans for the performances. Fourth-year student Jack Tunkel played mostly on a keyboard loaded with recycled instrument sounds he had recorded in advance.
"I also played the shaker. It's basically just bottle caps in a box, and I shook it," Tunkel said.
Tunkel is taking MUSIC 458 – Electronic Music Composition I, a course used to complement his minor in music technology.
"We created compositions over the course of two or three weeks and we were playing them here for everyone and this band that came to visit us," Tunkel said.
The group, Small Island Big Song, is currently touring the United States for the next four months, promoting their new album "Our Island". They have 43 members from different islands like Hawaii, Indonesia and Malaysia.
Kan Chan Kin comes from Mauritius, located in the Indian Ocean, east of Madagascar. He is also an environmental activist and wants to raise awareness about pollution and the solutions to it. Chan Kin said that includes recycled instruments.
"We're really happy to share with Penn State, with all students because we believe that all the mistakes humanity has made, future generations can fix them," he said.
Chan Kin and the other band members also taught visitors about Indo-Pacific music.
"So in Mauritius we have a battle drum called Ravanne, but we don't play like Native Americans, we play with our hands," Chan Kin said.
Penn State graduate student Joshua Mallard attended the event to support a friend who performed. He is studying music composition and really enjoyed the performances.
"One thing events like these teach me is that people with very little musical experience can do some of the best things ever. So to see these people coming together, putting together these amazing, really creative things is so inspiring," Mallard said.
After the student concert, some of the participants and the band played their instruments together, including Chan Kin and his Ravanne.
Each week, 3 Dots Downtown plans to host musical artists from 5 p.m. to 8 p.m. for the 30-week "Tuesdays on the Patio" series program, which also typically has an outdoor component. 3 Dots executive director Erica Quinn said she created the event last summer after being closed for more than a year.
"We really wanted to bring people together in the public space. It was amazing because before the pandemic we had about 1,000 people on the space every month, then after the reopening we climbed about 3,000," she said.
Quinn hopes to get people to engage socially, while learning about different types of music. She said 3 Dots believes in actively listening to the community and hopes to get more feedback on these events.
"We have the keys to the space, we have the sound system, we have the walls, but we want to hear what you think should be here," Quinn said.
Mallard thinks these events are great for the community and everyone should get involved.
"I think musicians should come, I think casual listeners should come. I will definitely be here," Mallard said.
[ad_2]
Source link