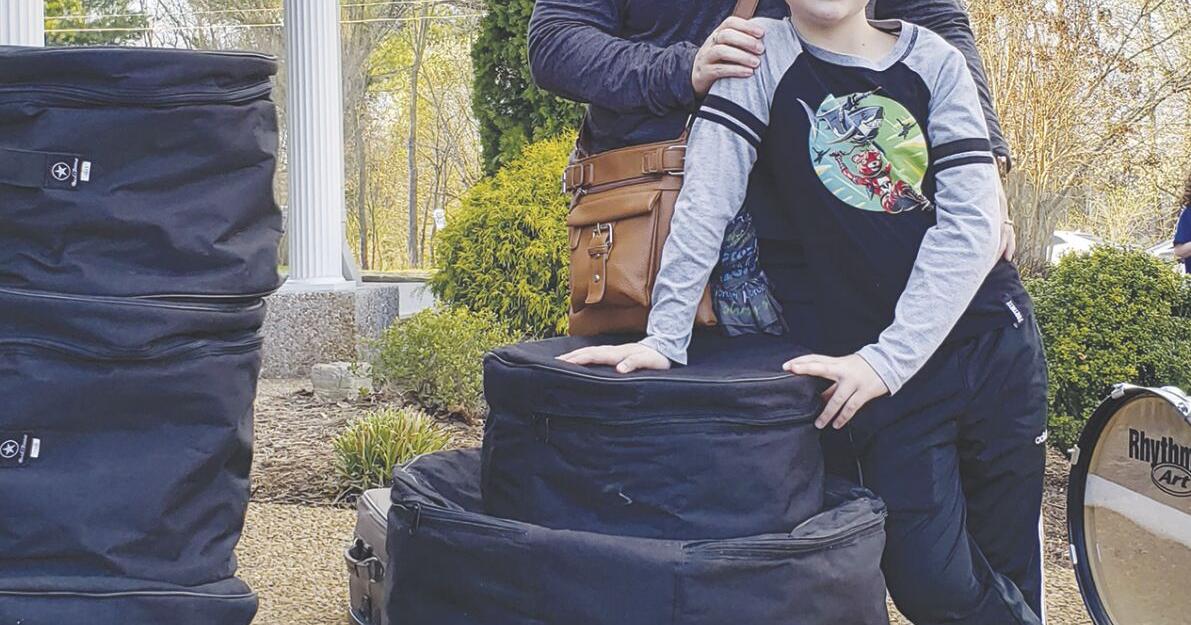 Love comes in all its forms; Tornado victims receive donated musical instruments from around the world | Local News
[ad_1]
MAYFIELD – In stark contrast to a city pockmarked with rubble and destruction as recovery efforts continue after the Dec. 10 tornadoes, the Graves County Public Library was a beacon of hope Friday night when the joyous sounds of music and laughter created a tangible buzz. Families reclaimed a sense of belonging in the form of free on-demand musical instruments donated from around the world and collected and distributed by host Michael Johnathon and the Lexington-based all-volunteer Woodsongs Old Time Radio Hour crew. .
"We started collecting instruments in December," Johnathon said. "I waited until now to give people time to figure out what their daily life was going to be like. They didn't need their banjos in January, they needed them (focus on basic needs) Now, things have settled down a bit so that they, at least, know what their daily life is like. So, it's a good time, I think, to bring them the gifts. It was hard to be patient. "
When the U-Haul truck door opened, love and compassion poured out from across the country and around the world in the form of musical instruments. Over 200 people were waiting in the cold wind and rain with smiles on their faces. Publicity manager Jason Ashcraft said that by the end of Friday's event, the Woodsongs team had given away nearly 600 instruments.
One such instrument went to Cynthia Wellenstein who beamed from ear to ear as she lined up. She learned about the event via Facebook and immediately thought of her musician husband who lost his keyboard in the tornado.
"He still has his guitar. It was in a different place. The keyboard, due to its size, was in the veranda. He was taken (by the tornado), but it will help. said Wellenstein. "He's going to be excited."
Wyatt King turned 11 on Friday. He stood patiently at the table, waiting for Johnathon or his wife Melissa to turn their attention to him. Overwhelmed by a moment of excitement, he blurted out, "It's my birthday!" If I had a snare drum, it would be my dream come true!
His mother, Allyson, explained that Wyatt plays percussion in the band and doesn't have any that he can play at home. "He actually saved some money to buy a battery, but I don't know if that's going to happen," she said. When asked what would happen if he had a drum set instead of just a snare drum, she replied, "Well, I guess I'd have to find a place to put one!" With that, she leaned over to the birthday boy and suggested asking for a drum set instead of a snare drum. "Do you want me to ask for a drum set?!"
Moments later, Wyatt received the birthday present of his dreams – a five-piece battery. By then, he was at least 20 minutes late to his birthday party, but Wyatt wasn't worried.
Wyatt wasn't the only one whose dreams came true on Friday night. Ty Flowers was almost moved to tears when Johnathon gave him a double bass. The 16-year-old immediately hugged the singer in a gesture of appreciation.
"I've been playing bass for about four years now and never imagined I could own one because these things are extremely expensive," Flowers said. "I play the trumpet, and I'm an All-State jazz trumpeter, but a double bass?! My two favorite instruments in the world are the bass and the trumpet. It's just awesome to have this opportunity.
Flowers said he had been playing music for most of his life. He played the piano for nine years before learning the trumpet. Now that he's the proud owner of a double bass, he says he hopes he and his friends can finally form the band they've been talking about for some time.
"Music is the only thing I'm good at. It's just something I like to do," Flowers said. "I've never been a very expressive person and, really, that's the only way I've been able to do that to some extent."
"It's more than putting power lines back in place or fixing holes in the road or something like that," Johnathon said of the recovery process. "Music and art affect the heart."
At the end of the event, an exhausted but ecstatic Johnathon gushed, "It's all about love. Couldn't you feel it?!"
[ad_2]
Source link