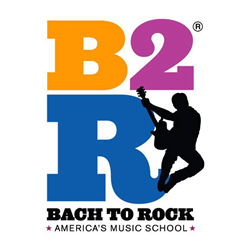 Bach to Rock Music School Announces Beat Refinery DJ School Earns Elite Serato Certification
Serato certification means B2R Beat Refinery students can be sure they're learning from the most skilled and experienced DJs, with the latest software technology and state-of-the-art equipment at their fingertips, said Chris Stiles, co- founder of the school of DJ Bach to Rock's Beat Refinery.

BETHESDA, Maryland (PRWEB)
August 03, 2021
From Bach to RockAmerica's music school for students of all ages, proudly announces that its Beat Refinery DJ School won Serato certification, making it one of only two music school brands in the United States and four in the world to offer the elite training developed by Serato. Serato, founded in 1999, is the leading provider of audio software for the DJ industry. The Serato Certification ensures that selected Bach to Rock DJ instructors have been trained and authorized to teach using Serato software and equipment. Students who attend a certified Bach to Rock Beat Refinery school will have exclusive access to Serato software and tools to learn cutting-edge techniques and a variety of DJ styles. Serato is internationally recognized as a leader in providing highly efficient, easy-to-use audio software.
The spearhead of the relationship with Serato was chris stilesalso known as Stylus Chris, who has been a DJ for over 20 years and co-founder of DJ school Bach to Rock's Beat Refinery, along with Brian Sadiarin aka DJ Geometrix, who is also a well-known DJ in the Washington, DC area. "Bach to Rock's Serato certification means Beat Refinery students can be sure they're learning from the most skilled and experienced DJs, with the latest software technology and state-of-the-art equipment at their fingertips," said Stiles. "With Serato, Bach to Rock has a partner who shares our belief in preserving DJ culture, which is very empowering. We are able to grow and continue to provide innovation and excellence to new and aspiring DJs, or current professionals looking to take their careers to the next level," Stiles continued.
"Serato is the most recognized audio software in the industry and gives DJs maximum flexibility to play all types of music at all times," said Brian Gross, president of Bach to Rock. "They are visionaries and leaders in the DJ industry, and we are very proud to partner with them to deliver such a high-caliber experience for our Beat Refinery students." Bach to Rock Beat Refinery DJ lessons are also available online, so regardless of a student's location or schedule, access to a Serato Certified Instructor is just a few clicks away.
About Serato

Serato manufactures top-notch audio software for music lovers around the world. Since launching its first product in 1999, users have grown into a community of millions of DJs, producers, engineers and musicians in 190 countries. From bedroom studios to festival stages and from the unknown to the greatest, Serato's mission is to provide the best possible experience for creating, performing and sharing music, wherever you are.
About Beat Refinery

Beat the refinery is dedicated to teaching all facets of becoming a DJ by combining traditional methods with ever-evolving technology. B2R is committed to developing superstar DJs by promoting positive self-expression through music. Whether a student is a novice or a seasoned artist, there are a wide variety of programs available to meet individual needs. Founded in 2014, Beat Refinery has helped hundreds of artists become performers by mastering DJ mixing, production and scratching.
Bach to Rock – A franchise opportunity with industrial stature

Bach to Rock has won many honors including being named: one of the Top 500 Franchises for 2021 by Entrepreneur Magazine; a Top 100 franchise for 2021 by Franchise Gator; a number one franchise for children's enrichment programs and one of Entrepreneur magazine's Top 150 franchises for veterans; and one of the Franchise Times Top 500 Brands. To learn more about franchise ownership opportunities and veteran and franchise referral programs, contact Ralph Rillon, Vice President of Franchise Development, at 1-855-227-7570 or [email protected] , or visit bachtorockfranchise.com.
About Bach to Rock: Changing the Way Students Learn Music

Bach to Rock is a music education school for students of all ages, from early childhood through high school and beyond. B2R knows that learning music should be fun and that students learn best when they play music they enjoy. B2R is the music school kids would have made for themselves, with weekly ensemble instruction and band build-ups leading to public gigs, Battle of the Bands and studio recording sessions. professional B2R registrations. B2R develops technique, promotes teamwork and improves self-esteem through private lessons, group instruction and public performances.
2021: Celebrating 50 schools and more growth in sight

Bach to Rock continues to expand across the country and recently celebrated the opening of its 50th school in Nashville, TN. Seven more schools are expected to open next year. The franchise is on its way to becoming a $25 million brand, teaching more than 65,000 children and adults since the company was founded in 2007. Follow B2R on Facebook and on Twitter. For more information, visit bachtorock.com or call 1-877-227-8558.
###

Share the article on social networks or by e-mail: