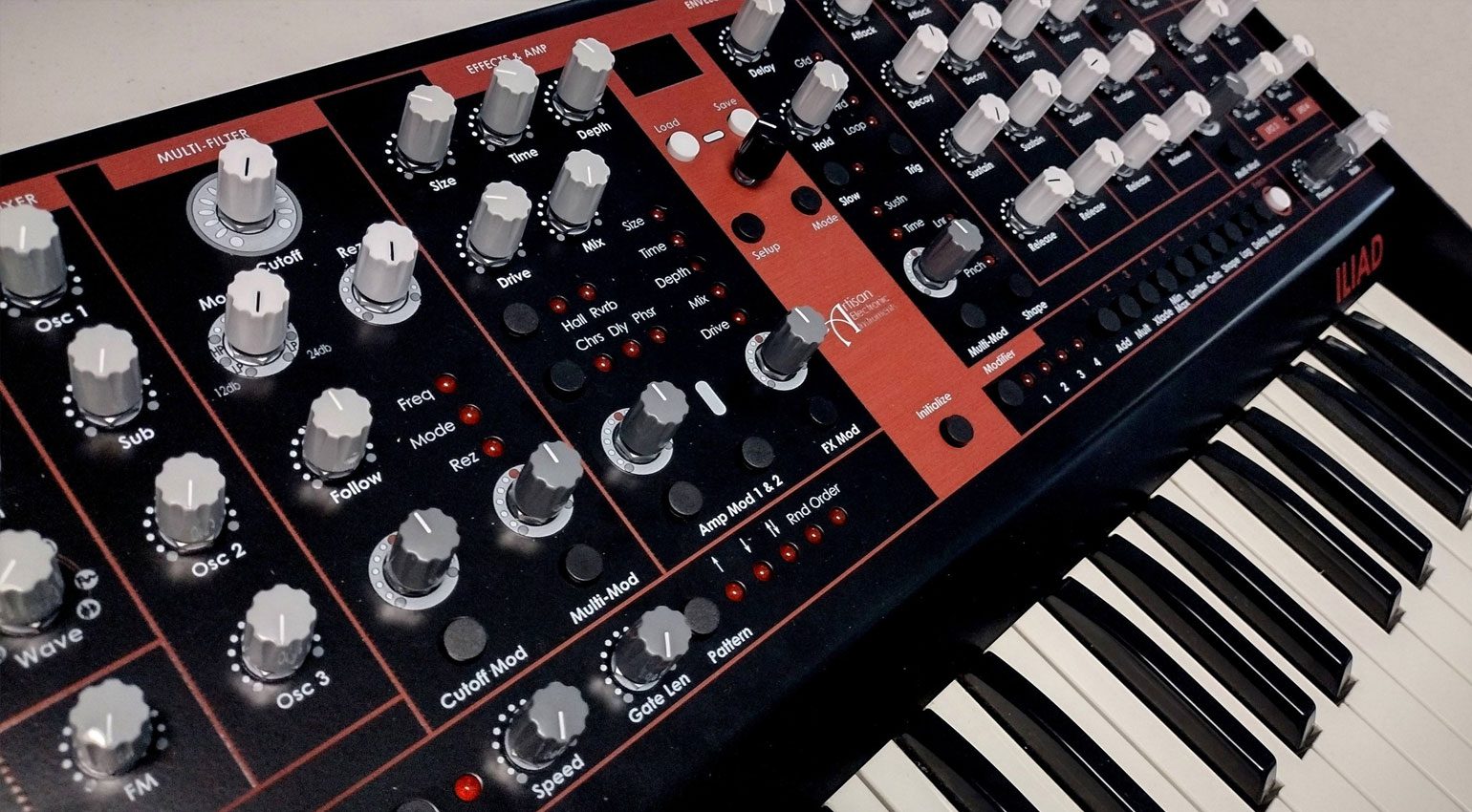 Artisan Electronic Instruments Previews the Iliad Polyphonic Synthesizer
Iliad Craftsman ·

Source: Homemade Electronic Instruments
Based on Artisan Electronic's Nucleus voice board, the Iliad is a bespoke synthesizer offering four to sixteen voices of analog and digital hybrid oscillations.
Iliad
Like the epic tale of Troy, the Iliad synthesizer hides voice cards inside its tough exterior that will burst and slaughter you once you bring it to the safety of your studio. Or so the legend goes. But Artisan Electronic's deep love for building synthesizers is unmistakable. Undeterred by the failure of last year's Kickstarter campaign to expand production of the Nucleus mono synthesizer, we now have our first look at a polyphonic version on display at Knobcon via a video from SonicState (below). .
Voice
Iliad is based on the voice map of the Nucleus. It's an interesting hybrid voice with a pair of analog oscillators and a digital one. Analog oscillators have different waveforms, pulse-width modulation and wave-folding built-in. There's a sub-oscillator with its own PWM, which sounds fun. There's a ton of modulation available to control every aspect of each oscillator.
Each voice also has an 8-pole multimode filter, 4 LFOs and 4 envelopes. The idea is that Artisan can stack up to 16 of these cards into a keyboard synthesizer that he will build to order. The Iliad base poly that was on demo has 4 voices and is housed in a 49 key chassis. The controls have been expanded from the original Nucleus to offer something approaching one button per function. There are also macro buttons and performance features. Each voice will be separately addressable with multi-timbral operation and individual outputs.
There is a 24-bit DSP digital effects section with reverb, chorus, delay and phaser. We can also see a Drive button in there and a modulation FX.
Modulation
Artisan electronic instruments are all about modulation and incorporating as many features as possible. There are 68 sources and 45 destinations of adjustable wonders. There's a whole math and logic section built in to further enhance the modulation possibilities. But if you can find a setting, then you can mod it.
Availablity
The Iliad will be built to order, and Artisan says they estimate they can produce 20 a year. The basic 4-voice Iliad will cost around £3,400, with additional voices at $400 a voice. At the moment, there are no demo videos, and it's still very much in development. The project seems very ambitious to me, especially given what happened with the Nucleus. Although you can't doubt the enthusiasm of Artisan's Michael Bachman. All it needs is a handful of awesome sounding videos and anything can happen.
Iliad's concept is great; it's got an army of stuff inside waiting to pop, and it has the potential to be a very interesting synth.
Homemade Electronic Instruments website.
More Craftsman.